Serving Denton County Since 1992

|

6021 Morriss Rd., Suite 101, Flower Mound, TX, 75028



Call Us Today
972-724-3338
An Irrevocable Trust Can Protect Your Assets from Lawsuits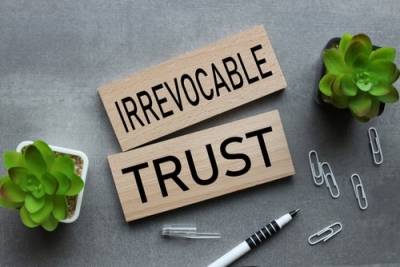 We live in a litigious society, and for certain individuals, the threat of a lawsuit is ever-present. For example, doctors and other medical professionals are at significant risk of being sued at some point in their careers. Research conducted by the American Medical Association found that one in three physicians has had a medical malpractice lawsuit filed against them.
Business owners, real estate developers, and individuals in high-profile careers may also worry about the risk of being sued at some point. If this is a concern for you, one option you may want to consider is an irrevocable trust.
Irrevocable Trust Benefits
There are many different types of trusts that serve a variety of purposes. As the name implies, irrevocable trusts cannot be easily terminated or modified once they are established. When property is placed in an irrevocable trust, it becomes the property of the trust. The person who created the trust, the grantor, no longer owns the property. This means that if a grantor is sued, the assets in the trust cannot be touched – they are safe from creditors and plaintiffs. Furthermore, because the assets are removed from the grantor's estate, an irrevocable trust relieves the grantor of the tax liability generated by the assets.
Creating an Irrevocable Trust
If you are interested in setting up an irrevocable trust, make sure to work with a qualified estate planning attorney. An attorney can help you understand the rules and regulations regarding trusts and advise you on the best way to structure your trust. When creating an irrevocable trust, it is important to name a trustee who will manage the trust on your behalf. The trustee's job is to ensure that assets are allocated according to the instructions of the trust document and comply with all applicable laws.
Contact our Denton County Estate Planning Lawyers
Irrevocable trusts are primarily used to transfer assets to beneficiaries, protect assets from judgments and creditors, and reduce estate taxes. If you are a professional who is at an increased risk of being sued, an irrevocable trust may provide the asset protection you are looking for.
The estate planning options that are best suited to your specific legal needs will depend on many different factors. A knowledgeable estate planning attorney can provide you with tailored advice and help you create an effective plan for protecting your assets. At Colbert Law Group PLLC, our team of experienced Flower Mound estate planning lawyers can assist with all aspects of trust formation, including irrevocable trusts. Call us today at 972-724-3338 and set up an initial consultation.
Source:
https://www.ama-assn.org/practice-management/sustainability/1-3-physicians-has-been-sued-age-55-1-2-hit-suit