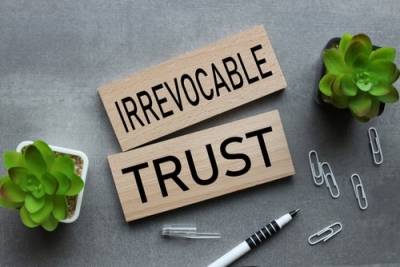 We live in a litigious society, and for certain individuals, the threat of a lawsuit is ever-present. For example, doctors and other medical professionals are at significant risk of being sued at some point in their careers. Research conducted by the American Medical Association found that one in three physicians has had a medical malpractice lawsuit filed against them.
Business owners, real estate developers, and individuals in high-profile careers may also worry about the risk of being sued at some point. If this is a concern for you, one option you may want to consider is an irrevocable trust.
Irrevocable Trust Benefits
There are many different types of trusts that serve a variety of purposes. As the name implies, irrevocable trusts cannot be easily terminated or modified once they are established. When property is placed in an irrevocable trust, it becomes the property of the trust. The person who created the trust, the grantor, no longer owns the property. This means that if a grantor is sued, the assets in the trust cannot be touched – they are safe from creditors and plaintiffs. Furthermore, because the assets are removed from the grantor's estate, an irrevocable trust relieves the grantor of the tax liability generated by the assets.
...